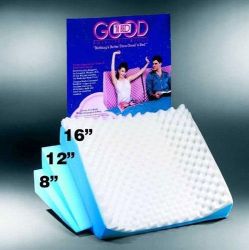 Developed by a respected former Clinical Director of Physical Medicine, Cedars-Sinai Medical Center, Los Angeles specializing in neck and back care and posture.
Recommended by healthcare professionals for over 30 years.
Our versatile wedge cradles and supports the body while sitting upright or sleeping simply by turning the wedge around.
Two removable sections adjust the wedge height to 8", 12" or 16" for comfortable elevation of the upper body.
Mulit-contoured concave surface prevents sliding and distributes the body weight, reducing pressure and increasing msucle relaxation.
Helpful for painful shoulders, respiratory conditions, post surgery, osteoporosis, painful neck, swallowing difficulties or comfortable bed rest.
Listed on the CertiPUR.US? website.
Always Made in the USA. FEATURES
16"D tapering to 7"D x 24"W x 21"H
Washable cotton blend cover.
SKU #: 2045
Our incredible price: $144.70

Availability: In Stock