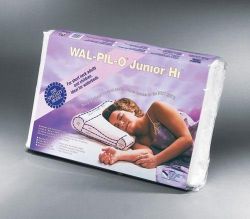 Recommended for children, small frame adults (under 5'2"), back sleepers and people who prefer a lower pillow with support.
Developed by a respected former Clinical Director of Physical Medicine, Cedars-Sinai Medical Center, Los Angeles specializing in neck and back care and posture.
Recommended by physician leaders, including a White House Physician, and healthcare professionals for over 35 years.
Anatomical design helps prevent and relieve discomfort from tension headaches, neck and shoulder pain, whiplash, arthritic disorders of the neck and TMJ pain.
The Wal-Pil-O? Junior Hi cradles the head and neck providing proper support and promoting comfortable, healthy alignment for back or side sleeping, leaving neck muscles relaxed.
Four combinations of support: narrow or wide (firm) borders for neck support and soft or medium centers for head support.
Listed on the CertiPUR.US? website.
Always Made in the USA. FEATURES
23"L x 15"W x 3 1/2" and 2 1/2" H
Narrow border 3" wide. Wide border 4" wide.
Cotton blend cover.
SKU #: 2041C
Our incredible price: $99.66

Availability: In Stock