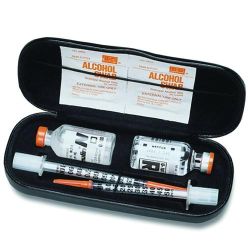 Discreet yet stylish, the D.I. Case is the handiest carrying case available for transporting your insulin and syringes
Simulating a designer eyeglass case, the D.I. Case is made of lightweight aluminum with a fitted insert that holds two vials of insulin, two syringes and alcohol swabs
Also compatible with the smaller, 100 unit, prefilled disposable Pens
Fits comfortably in your pocket or purse
Weighs only four ounces
Comes in simulated black leather
Perfect for everyday use
6" L x 2-1/2" W
Contents not included
Color Black
Due to State and Federal Law, we sell Syringes and Needles only to the Medical Facilities.

SKU #: 2664
Our incredible price: $25.84

Availability: In Stock